Singapore is not just rich in culture but is also rich in food dishes as they are mostly influenced by Chinese, Indian, Malaysian and Indonesian cuisines. If you are travelling in Singapore better make sure to try their unique cuisine. Here are some of their most famous food:
Bak Kut Teh (Meat Bone Tea/Pork Ribs Soup)
Bak Kut Teh has long been in Singapore's history and deserves its rightful recognition. It is a humble dish that is made of spices and herbs like star anise.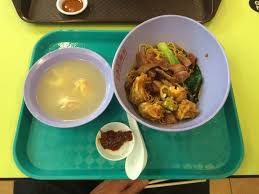 A common story to the creation of Bak Kut Teh is that it started with a poor starving beggar who came and begs at a street stall of a pork noodle store. The stall owner who was also in poverty still wanted to help and boiled the beggar his leftover pork bones and added whatever cheap spices he had left which included star anise and pepper to create the soup.
Wanton Mee

This noodle dish was probably influenced by Hong Kong cuisine but has integrated well into Singaporean culture over the years. The country's version of this dish is commonly eaten dry, and then drenched with sweet sauce, slices of pork char siew and wanton dumplings.
Dim Sum

Dim Sum or Dian Xin is another inspired Hong Kong/Shanghai type of cuisine. This is not mostly one dish but is made of a set of small dishes that are to be eaten in a group.
Crabs
Crabs are popular in Singapore and are commonly savoured in two styles: sweet, spicy tomato-ish chilli sauce, or with black pepper sauce.